Le Musée Marmottan Monet présente pour la première fois depuis sa création, la totalité des oeuvres de Claude Monet de ses collections : des caricatures de jeunesse aux Nymphéas de Giverny. Plus de cent oeuvres du peintre seront exposées : carnets de dessins, croquis, caricatures, pastels et peintures.
Adresse :
2, rue Louis-Boilly,
75016 Paris
France
Tel. : +33 (0)1 44 96 50 33
Fax : +33 (0)1 40 50 65 84
Heures d'ouverture
De 10h à 17h30 tous les jours sauf le lundi
Fermeture des caisses à 17h
Fermeture le lundi, le 1er mai et le 25 décembre
Droits d'entrée
Plein tarif : 40 F
Tarif réduit : 25 F
Gratuit : moins de 8 ans
Visites de groupes
Avec conférencier ou en visite libre.
Réservation obligatoire par téléphone de 10h à 17h ou par télécopie.
Tarif réduit pour les groupes de 20 personnes ou plus.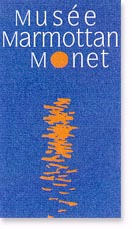 Marmottan Monet Museum, Paris presents for the first time all the Claude Monet works of its collections : from the early caricatures to the Giverny Waterlilies. Over 100 works will be exhibited : sketches, drawings notebooks, caricatures, pastels and paintings.
Address :
2, rue Louis-Boilly,
75016 Paris
France
Tel. : +33 (0)1 44 96 50 33
Fax : +33 (0)1 40 50 65 84
Opening hours
10 a.m. to 5.30 p.m. every day (except Mondays)
The registers close at 5 p.m.
Closed Mondays, 1st May and 25th December
Entrance fees
Full price: 40 FRF
Reduced price 25 FRF
Free for children under 8
Group visits
With guide or open visit.
Mandatory reservation on telephone from 10 a.m. to 5 p.m. or by fax
Reduced price for groups off 20 people or more